Lake Balaton in Hungary (Balaton) is the largest lake in Central Europe. The towns around the lake, with the capital Budapest, are the most important tourist destination in Hungary. The holidaymakers come as bathers mainly in summer, but there are also holidaymakers at Lake Balaton in other seasons. They come for example because of the health resorts and healing springs.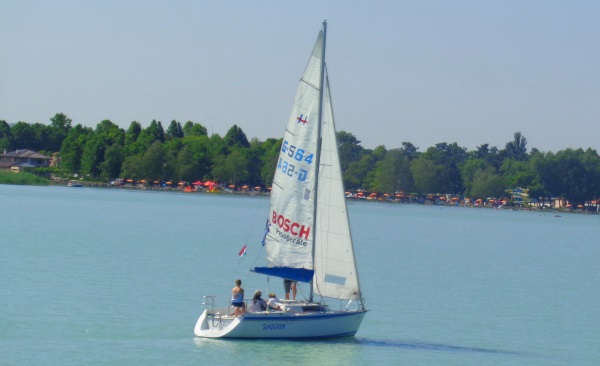 Lake Balaton has a shore length of almost 200 km. There are dozens of holiday resorts and some health resorts around the lake. About 1 million tourists come to Lake Balaton every year. About 45% are from abroad, more than half of the foreign guests are from Germany and Austria.
Lake Balaton is the German name of the lake. In Hungary and many other languages the lake is called Balaton. Also in English the "Hungarian Sea" is called Lake Balaton. Also among German-speaking tourists the name Balaton for the lake is gaining more and more popularity.
Lake Balaton is almost the largest lake in Central Europe. Lake Geneva is about 2 % smaller, Lake Constance about 10 %. Lake Balaton is 594 square kilometres in size. The lake is very shallow, on average it is only about 3 meters deep. The deepest point is only a little more than 12 meters below the water surface. The length of Lake Balaton from west to east is just under 80 km, the maximum width just under 13 km.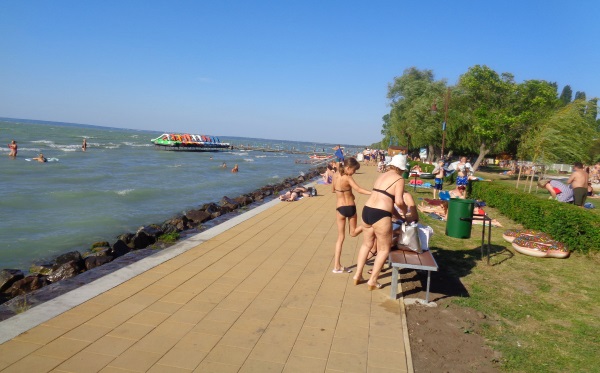 There are many resorts around the lake. Three holiday resorts around Lake Balaton are particularly popular and well-known: The most famous party place on Lake Balaton is Siofok in the southeast of the lake. Especially young tourists from Hungary and abroad come here. There are dozens of bars, clubs and discos etc.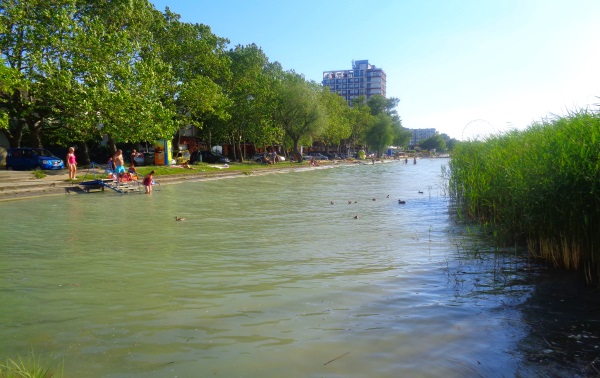 Balatonfüred in the north of Lake Balaton is a health resort known for centuries. It is more likely that older guests come here. The third very important region at Lake Balaton is Keszthely / Heviz in the northwest. Keszthely is a beautiful city with a lot of culture. Only 5 km away is the health resort Heviz with a very famous thermal lake, which is warm all year round due to a hot spring.
Furthermore the Lake Balaton is famous for wine. Around the lake there are several wine regions, together they belong to the largest wine growing areas in Hungary.
There are more than 250 different bird species at Lake Balaton. Sometimes you can also see a snake in or near the water. They are mostly dice snakes that are not dangerous for humans. Also different lizards can be seen as guests at Lake Balaton with a little luck.