Budapest Zoo is the largest and most famous zoo in Hungary. The zoo is also a botanical garden. You can find, similar to a big zoo in Germany, almost all typical zoo animals in the Budapest Zoo.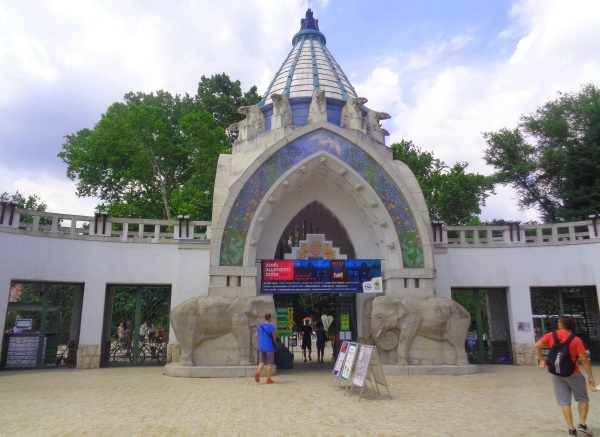 How to get there: Budapest Zoo is located in the City Park of Budapest, a well-known park about 3 kilometers from the city center. You can easily reach the park with the zoo by taking the subway line 1, stop Szechenyi Fürdö (Szechenyi Thermal Bath).
Entrance fees Budapest Zoo 2023: As an adult you pay 3300 Forint entrance fee (about 8 Euro, as of the beginning of 2023). There are discounts for children, students, pensioners and families, among others.
Animals at Budapest Zoo: There are over 100 species of mammals, reptiles and birds. This makes it a big zoo. All well-known zoo animals like elephants, tigers, lions, hippos, rhinos, camels, various monkeys and many, many more can be seen at Budapest Zoo. The zoo is divided by continents and regions like tropical America, Australia, Africa, Madagascar and so on. You can also see some animals that are not found in many other zoos in Europe. The Budapest Zoo is also known for its large shark aquarium.
There are several restaurants, cafes, fast food stands, ice cream vendors and much more in the zoo. Like the entrance fee to the zoo, the gastronomy at the Budapest Zoo is also a little cheaper than in zoos in other countries in Europe.
Conclusion: Budapest Zoo is a zoo like in a big city in Europe. All important animals of the world and many other animal species are present. The entrance fee and additional costs are a little lower than in a comparable zoo in Western Europe. Overall we liked the Budapest Zoo very much. Who has time and interest should visit the zoo. You need several hours to see everything. There is also a lot for children, several petting zoos, playgrounds etc.