Margaret Island is a large island in the Danube in the middle of Budapest. It divides the Danube over a length of almost 3 kilometers into about 2 arms of about the same width. The island is a large park, there are hardly any houses on Margaret Island.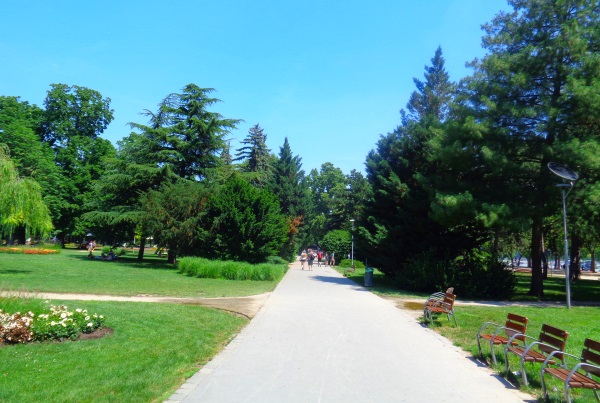 The large island in Budapest has a length of 2.8 km and a width of up to 600 meters, the surface of Margaret Island is about 0.9 km².  There is a bridge over the Danube both at the northern and the southern end of the island. From the middle of the bridge, one can get to the Margaret Island. The island is closed for cars. But one can rent cheap electric vehicles, there is also a bus line on the Margaret Island. The buses are normal city buses and run approximately every 20 minutes along the whole island.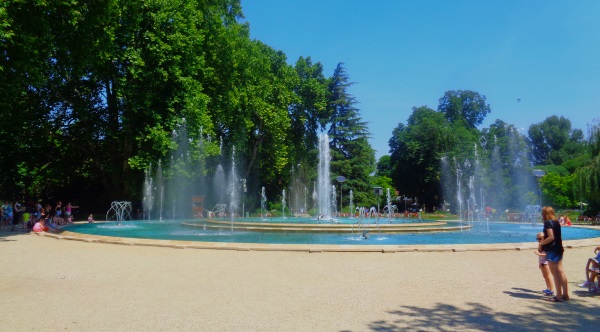 The northern bridge is the Arpad Bridge, the southern one the Margaret bridge (picture below). The bridge and the island are named after the daughter of a king of Hungary (Bela IV) named Margaret from the 13th century.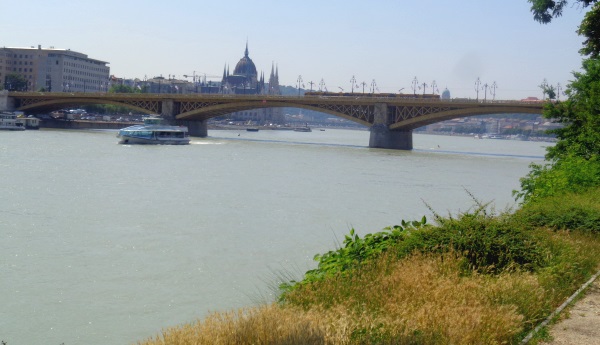 Coming around on Margaret Island
It takes almost an hour on foot from one end of the island to the other. If one wants to see all the sightseeings of the island, one needs even longer. Some are located on the eastern side of Margaret Island in Budapest, others on the other side.
It is great to explore the big Margaret Island by bike. At the southern end of the island, near the Margaret Bridge, you can rent bicycles.
There are also 10 rental companies of other vehicles, mostly electric vehicles. These include the modern e-scooters and also small, open cars, as known from golf courses. Renting such vehicles costs about 20 Euro per hour, some of them are suitable for several persons. A great opportunity to try out one of the modern electric vehicles.
There is a small train (see picture) and also public buses.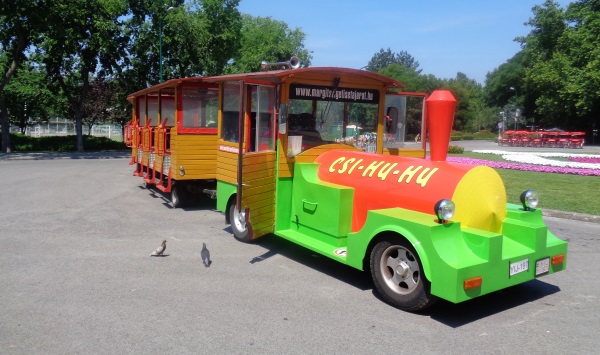 Sights Margaret Island
There is much to see on Margaret Island. For one thing, there is a small animal park. Very interesting at the right time of year is also the large rose garden with 2500 (!) rose species. Also the Japanese garden in the north of the island is a well-known attraction.
For the inhabitants of Budapest the centenary monument is an important sight on Margaret Island. It is the monument commemorating the unification of Buda and Pest to Budapest in the 19th century.
The Palatinus Thermal Bath in the west of the island is one of the 3-4 most famous public baths in Budapest. It is a modern summer outdoor pool with long slides and much more.
The almost 60 meter high water tower on Margaret Island is also famous and even UNESCO World Heritage Site.