Budapest has greatly expanded its central pedestrian zone in recent years. The most important street is Vaci Street (Hungarian: Váci utca). This central shopping street runs from north to south, parallel to the Danube. The pedestrian zone is located in the district of Pest about 100 meters from the Danube.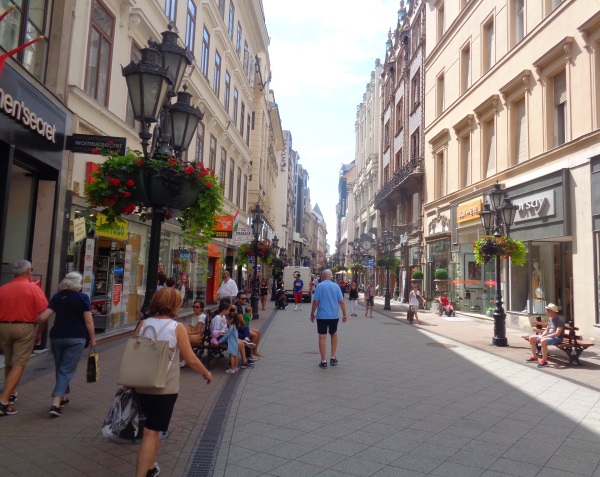 Vaci Street starts at the Hard Rock Cafe Budapest in the north and ends at the Great Market Hall in the south. Other smaller streets to the right and left of Vaci Street are also part of the pedestrian zone in downtown Budapest.
Vaci Utca is mainly a shopping street, but there are also many restaurants, bars and cafes. Also some hotels like the Marriot Budapest are in the central pedestrian zone.
You can reach the Vaci Street in the north by subway 1 (station Vörösmarty Square). To the south is Fövam Square (subway 4) is near station.
Some shops in Vaci Street we know from Germany. These include Zara, Foot Locker, Drug Store Müller, Deichmann and H&M. Of course there are also the well-known fast food chains like Burger King and McDonald's.
You should not miss the gigantic market hall at the southern end of the pedestrian zone Vaci Street, one of the great sights in Budapest.