This article is about Danube bridges in Budapest. The city is the last city on the Danube, which is on both sides of the river. Downstream there are no other cities on either side of the Danube. In Budapest the Danube already has a width of almost 500 meters. This makes building bridges expensive and difficult.

The first bridge over the Danube in Budapest was the famous Chain Bridge (see picture above). It was completed in 1849 and is still an important bridge in the centre of Budapest. Before the bridge was built, Buda and Pest were two independent cities on either side of the Danube. In 1872 they were united to form Budapest. Many other bridges have been built in the more than 150 years to this day. There are currently (2020) a total of 11 bridges in Budapest across the Danube. In addition there are 2 tunnels for the Metro.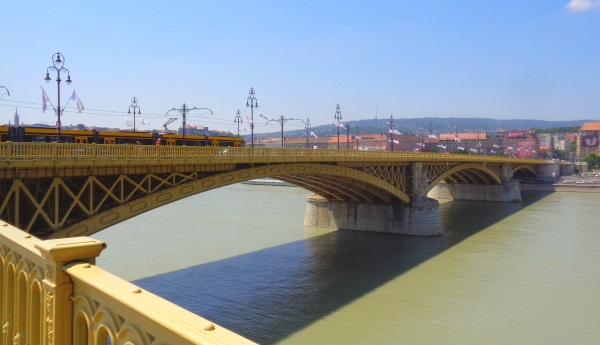 Special bridges are the Margaret Bridge and the Arpad Bridge. They run across the Margaret Island and thus consist of 2 bridges, each bridging half of the Danube. The Margaret Bridge was also the second bridge over the Danube. The bridge was opened to traffic in 1876, only 4 years after the Chain Bridge.
Boat tours on the Danube in Budapest
Very popular among tourists are boat tours on the Danube in Budapest. There are many different offers. Some tourists do a simple 1-hour round trip, others an exclusive dinner tour with a 4-course menu. You can book many of these tours on the Danube on the great website Getyourguide:  >>>  Link to the website Getyourguide
Bridges in Budapest across the Danube from north to south
The newest bridge is the Megyeri Bridge. The motorway bridge is also the northernmost of the 11 bridges, built in 2008.
From north to south these bridges follow: the Ujpesti Bridge (railway bridge, 1896, later renewed) and the already mentioned Margaret Island bridges, Arpad Bridge (1950) and Margaret Bridge (1876). Then come the famous Chain Bridge and the Elisabeth Bridge (1903). The Freedom Bridge is the last of the old bridges from the 19th century (1896).
Further south follow the Petöfi Bridge (1937), the Rákóczi Bridge (1995), the Southern Railway Bridge (1877) and the Deák Ferenc Bridge (1990, motorway bridge).
By the way, many Danube bridges in Budapest were destroyed by the Germans during the retreat at the end of World War II. Some could be repaired, others had to be built from scratch.
Two tunnels of the Budapest metro pass under the Danube. The M2 line has been in existence for a long time, the M4 metro line for only a few years.